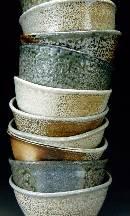 The Empty Bowls Project is a nationwide effort by potters & artists to end hunger.
The Lillstreet Arts Center proudly hosts the 8th annual event to benefit First Slice Pie Cafe!
On Friday, April 17th from 5-8pm, guests will enjoy the soup & bread social  in a handmade bowl donated by a local artist. Guests may take home their bowls as a reminder of all the other bowls that may be empty. Bowls are $25 each, and there is no limit to the number of bowls that can be purchased. Sales begin at 5pm on a first come, first served basis. There will also be a silent auction of donated artist-crafted jewelry, textiles, prints, paintings & drawings, glass objects, and ceramics.
Help us FILL those empty bowls! First Slice currently serves over 600 meals a week through our Outreach Program, partnering with StreetWise, The Crib, Broadway Youth Center, and the Welcome Meal at Epiphany UCC.
April 17th 2015      Friday night 5-8pm
4401 N. Ravenswood Ave. inside the Lillstreet Arts Center
 Featured Artisan Soups
 To Be Announced Soon