Manor Location:
4664 N Manor
Chicago, Il
Phone: 773-267-0169
Public Transit: Brown line @ the Francisco stop
Manor Hours:
Fall/Winter Hours: 
Monday-Friday  8:00am-6:30pm
Saturday  9:00am-6:00pm
Sunday   10:00am-4:00pm   (Brunch from 10-2! Sundays only!)
Special Holiday Hours: 
CLOSED on December 25
Open 10am – 4pm daily from December 26-30
CLOSED January 1
Thanks for helping us provide over 32,000 meals in 2017 to our neighbors in need!  May we all find ways, big and small, to continue strengthening our communities in 2018.
Hear What Our Customers Have to Say:
"Great little neighborhood place! Unique menu items, friendly, knowledgable, helpful staff. My fav from here is the black bean and mushroom tamales! Tasty, comes with a side salad of mixed greens. Give it a try!"
"FANTASTIC PIE!!!  Prior to yesterday I had only stopped in occasionally to get a coffee when I take my little guy to the park across the way, but yesterday I was tempted by their peanut butter chocolate pie!  Amazingly good!"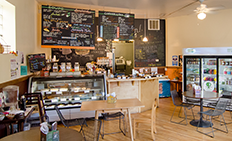 "First slice is soo cozy! The staff is always super friendly, and the smells that fill my porch from across the tracks in First Slices kitchen are FANTASTIC!
Coffee is consistent, & fresh! The baked treats are perfect for afternoon snack & their take home dinners are perfect for a quick meal on the way home… And the pie….. Oh the pie!"
Special Events:
Come on down to the Ravenswood First Slice – inside the Lillstreet Arts Center – on Friday, April 7, 2017 for our 10th Annual Empty Bowls!  
Time:  5-8pm
Place: 4401 N. Ravenswood
Purpose:  Help feed folks in need while feeding yourself!  For a $25 donation you get to select a handmade ceramic bowl and fill it with soup as many times as you want that evening.  At the end of the night, your bowl goes home with you as a reminder of all the empty bowls you're helping First Slice to fill.  Soup choices are: Santa Fe Chicken Chipotle, French Lentil with Kale, and Ginger Carrot.  Eat one or eat them all!  All proceeds will help support First Slice's Outreach Program, which currently supplies over 600 meals a week to our neighbors who struggle with hunger & homelessness.
Want to make the evening even MORE fun?  Sign up for a volunteer shift here!