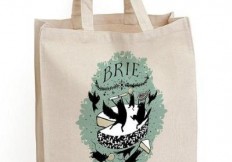 This week Chicago-area Whole Foods Markets will be selling canvas bags designed by local artists, with proceeds benefiting some very cool charities, like The Night Ministry, 826CHI, First Slice Pie Cafe; Lurie Children's Hospital, and Purple Asparagus.
Diana Sudyka, who's designed some amazing Decemberists posters, has designed a Brie bag which goes on sale Saturday, Dec. 29th! Proceeds from the purchase will benefit First Slice's outreach programs, provide high-quality meals to Street Wise, the Crib, Broadway Youth Center, and the Welcome Meal at Epiphany UCC.    
   For more information regarding Whole Foods Chicago Eve Week, click here!