From Our Kitchen To Your Table
Welcome to our WINTER 2018 Subscriber Session!  It runs for 10 weeks, from January 5 – March 11.  If you are interested in participating, please fill out this Registration Form!
If you're interested in signing up for just a trial week to give the program a test run, send us an email at info@firstslice.org and we'll set you up!
Want to know what your choices are for next week?  Check out the menu: To Your Table
Need a reminder about what's stashed in your freezer?  Check out this week's heating instructions:   Instructions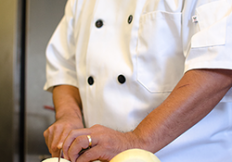 What is the Subscriber Program?
The Subscriber Program is a unique meal sharing program that sends you home with three high-quality meals every weekend for your family and helps us provide over 600 meals a week to those in our community who struggle with hunger & homelessness.
Ingredients are locally-sourced whenever possible, taking advantage of our committed relationship to our Farmer partners.
What do I get with my subscription?
You receive three full meals per person every weekend.
Our menu changes every week – you choose from three meat entrees, one seafood entree, and two vegetarian entrees.  You also receive seven vegetarian sides, including soup, salad, fruit or vegetables from our local farmer partners, and of course, slices of our yummy pie!
How much does it cost to participate?
We have two plans: Family and Individual.
The Family plan is portioned for two adults and 1-2 children (depending on their appetites), or two adults who like having leftovers for lunch!  It costs $95 per week (including tax).
Our Individual plan is portioned for one person, and costs $50 per week (including tax).
What if I have a larger family?
You can purchase extra meals to add to your subscription each week at a cost of $20 per meal for Family, and $10 for Individual.  You can also purchase a combination of two Family subscriptions, or a Family subscription plus an appropriate number of Individual subscriptions.
Take advantage of a trial week to figure out what will work best for your family!
What if I have dietary restrictions?
We are able to work with many minor dietary allergies such as tree nut, seed, and herbal seasoning restrictions. We can modify some dishes to accommodate dairy or gluten allergies, but not all of them. Every week, allergen alerts will be be noted on menus if we have any known subscribers with dietary allergies. Food is prepared for a large quantity of folks at one time, so it is not always possible to accommodate all food allergens.
I'm trying to avoid certain foods such as XYZ. Can you accommodate substitutions?
We will do our best to work with your request. We can usually offer a duplicate side in lieu of another.
Who are your Farmer partners?
We have long-standing relationships with Kinnikinnick Farm in Caldonia, IL and Mick Klug Farm in Saint Joseph, MI.
All of our chicken is sourced from Amish farmers in Indiana, so it's free-range, and antibiotic free.  We've recently partnered with Dotson Farms in Beecher, IL and also source meat from from Yuppie Hill in Burlington, WI, Hometown Sausage Kitchen, Mint Creek, and Maple Leaf Farms. The Peterson Garden Project is a community garden that has been regularly donating herbs, onions, and other produce. The Lillstreet Rooftop Beehives honey is a recent addition to our recipes.
Do you offer delivery?
Although our program is structured for Subscribers to pick-up in one of our cafes each week, we might be able to help you out if you need meals delivered to you.  Send a note to us at info@firstslice.org and we'll see what we can do!
When and where can I pick up?
The Subscriber Program runs on Fridays, Saturdays, and Sundays (no Sunday pick up at the Evanston location).
We have FOUR convenient cafes offering pick up services:
 4401 N Ravenswood Ave inside Lillstreet Art Center
Fridays        2pm – 6pm
Saturdays   9am – 6pm
Sundays     9:30am – 5pm
5357 N Ashland Ave (at Balmoral) in Andersonville
Fridays        2pm – 10pm
Saturdays   9am – 10pm
Sundays     10am – 8pm
4664 N Manor Ave by Francisco Brown Line stop
Fridays       2pm – 6:30pm
Saturdays  9am – 6pm
Sundays     10am – 4pm 
1823 Church Street in EVANSTON (just across from Evanston Township High School)
Fridays       2pm – 5:00pm
Saturdays  10:00am – 3:00pm
(First Slice Evanston is closed on Sundays.)
 What is a session? Do I have to commit to the entire session?
A session refers to the block of weeks that we are running the Subscriber Program. The sessions can vary in length, depending on seasons and holidays.
We typically have a Early Spring, Late Spring, Summer, Fall, Early Winter, and Late Winter session.
We ask for a commitment to allow us to plan our Outreach services for the session.  Knowing how many subscribers we have for a session means we can determine how many outreach meals we can provide and if we can take on new outreach partners.
That being said, you can commit to however many weeks of the session you would prefer. Figuring out what works best for your family is key. Most subscribers commit to the whole session, however some find that every other week works better for their eating schedule, while others travel often and will commit to the weeks they are in town.
Who are your Outreach partners? Who is benefiting from our participation in the Subscriber Program?
We provide meals and food donations for outreach events throughout the year, such as the H.E.L.P. Initiative, Deborah's Place, or House of Good Shepherd.
On a weekly basis, we average over 600+ meals a week in the community at the following locations:
STREET WISE WORK RESOURCE CENTER
4554 N. Broadway St., Chicago, IL 60640
Call: 773-334-6600
BROADWAY YOUTH CENTER
3837 N Broadway St., Chicago, IL 60613
Call: 773-935-3151
The Night Ministry-THE CRIB is an overnight LGBT Youth Shelter and is provided with 25 meals 5 days a week, and up to 32 meals in emergency weather.
Basement of Lakeview Lutheran at 835 W. Addison St., Chicago, IL 60613       Call 773-549-4158
THE WELCOME MEAL at EPIPHANY UCC
2008 W. Bradley Place, Chicago, IL 60618
Call: 773-281-4144
You and your family are being exposed to new dishes and classic favorites every week! Some have called this the "Marriage-Saver", while others have been gifted the program during a medical recovery or hardship and have found it to be a tremendous help. Expectant families will have a few less meals to worry about while they prepare for their new family member. Don't forget, a week or a session of the program can be a unique gift for friends & family!
What are my payment options?
Most subscribers will either make one payment in full, or make two half-payments. However, we can be somewhat flexible and have done monthly payments, or in some cases, weekly payments. We accept cash, check, and most major credit cards. American Express is not accepted.
What if I am traveling, out of town, or unable to pick up my meals?
You always have the option to generously donate your meals to a family in need.
If you have a friend or family member who is able to pick up your meals and hold them for you, we welcome them to stop by!
You can make arrangements with us in advance to hold your food a little longer. With precious freezer space available and new food being stored for the next pick up, we are not usually able to hold your food past Tuesday. Fresh food may be time-sensitive.
All unclaimed food with no arrangements made are utilized in our outreach program on Monday after the weekend pickups.
 How do I cook my meals? 
Your meals are prepared the week or day of and then stored appropriately for pick up. Many entrees will be frozen, while other items may come fresh or need light preparation. Heating Instructions are available on most packaging, and we provide a copy of all heating instructions at pick up and online.
How do I choose my next meal?
Every week, a new menu is available at pick up. Please make your selections and leave your order in your folder or with staff. If you need to check with your partner or family before placing your next order, you can call in your choices, or email them to us at info@firstslice.org by Wednesday at the latest. New menus and heating instructions will be available online every Friday.
What is a trial week and is it free?
A trial week allows you test out our program for one week, and is not complimentary. If you decide to commit to the remainder of the session, the subscription cost will be prorated for the weeks remaining.
Not sure you're ready to commit?  Contact us at info@firstslice.org about signing up for a trial week!