Ravenswood Location:
4401 N Ravenswood Ave
Chicago, Ill 60640
Phone: 773-506-7380
Public: Next to the Montrose Brown Line Stop
Ravenwood Hours:
Monday-Thursday  8:30am-7:30pm
Friday-Saturday 8:30am-6:00pm
Sunday 9:30am-5:00pm
Special Holiday Hours: 
Closing at 4pm on December 24
CLOSED on December 25
Open 8:30am – 3pm daily from December 26-30
Open 9:30am – 3pm on Sunday, December 31 (no classes at Lillstreet Arts Center)
CLOSED January 1
Open 8:30am – 3pm daily from January 2-6  (no classes at Lillstreet Arts Center)
Open 9:30am – 3pm on Sunday, January 7
Regular hours resume on Monday, January 8
Thanks for helping us provide over 32,000 meals in 2017 to our neighbors in need!  May we all find ways, big and small, to continue strengthening our communities in 2018.  
Here's What Our Customers Say:
"They make a very good French silk chocolate pie and it's reasonably priced at $3.50/slice.  It's right across the way from the CTA Montrose stop, situating it perfectly for what I refer to as an afterwork "dinnersnack."
"This place is tucked away in what is essentially an artist studio/store.  It is a gem of a find and deserves your patronage.  The food is first rate with really well made pies but they also offer sandiwches, baked goods, salads and more."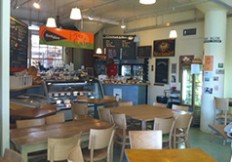 "Great food, good cause, and, more importantly, for people too busy to cook, these guys have a terrific subscription program. Once a week families come down to the cafe to pick up their meals for the week. They are always delicious, exquisitely prepared and varied."
Special Events: Coming soon
Empty Bowls 2017!
On Friday, April 7th from 5-8pm, we will have our 10th annual Empty Bowls Fundraiser inside the Lillstreet Arts Center.
The Empty Bowls Project is a nationwide effort by potters & artists to end hunger.
The Lillstreet Arts Center proudly hosts the 10th annual event to benefit First Slice Pie Cafe!
On Friday, April 7th from 5-8pm, guests will enjoy the soup & bread social  in a handmade bowl donated by a local artist. Guests may take home their bowls as a reminder of all the other bowls that may be empty. Bowls are $25 each, and there is no limit to the number of bowls that can be purchased. Sales begin at 5pm on a first come, first served basis. There will also be a silent auction of donated artist-crafted jewelry, textiles, prints, paintings & drawings, glass objects, and ceramics.
Help us FILL those empty bowls! First Slice currently serves over 600 meals a week through our Outreach Program, partnering with StreetWise, The Crib, Broadway Youth Center, and the Welcome Meal at Epiphany UCC.