Join us on February 13th & 14th for Galentine's & Valentine's Day celebration  
with a few specials to get you in the romantic spirit!
 All day on that Friday and Saturday, First Slice will be offering a Mini Pie Flights Special!
What do you get? Four Mini Pie Slices
 Now you can try more of our flavors for only $7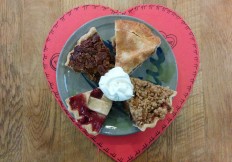 Chocolate Lover's: French Silk, Polka Dot, Chocolate Peanut Butter, & Chocolate Cream
Fruit & Nut: Michigan Sour Cherry, Traditional Apple, Balsamic Raspberry Pear, Blueberry Peach Streusel or Traditional Pecan (Choose 4)
Dreamy Creams: Key Lime, Tabasco, Coffee Toffee, Blueberry Cheesecake
DIY: Choose Four Available Flavors… Choose Wisely!
 From February 1st- February 14th, stop on in and have some lunch with a few of our Combo Deals!
Combo #1: 1 entree-item off the regular menu + 1 mini pie for only $12
Combo #2: 2 entree-items off the regular menu + 1 mini pie for only $20